Jack Mayor
From GPVWC Wiki
Jack Mayor is a British sim-racing driver and team-owner of MDR. Along with competing in the Daytona Milton Keynes Inkart Championship, Mayor also competes in various sim-racing events and championships. Mayor currently drives for ST Racing for the 2018 Supercup Championship
2015
Mayor started sim-racing in 2015 using the Supersports 3X racing wheel.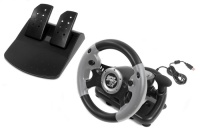 Mayor made his GPVWC debut at the 2015 Canadian Grand Prix in the Open Series, which saw Mayor take 9th place in race 1 but retiring in race 2. However, Mayor also made an unthinkable debut within the Superleague the same week. After agreeing to fill in for Sven De Vries at the crumbling Target Racing, Mayor qualified 25th on the grid. Mayor avoided the turn 1 multi-car pile-up and found himself in the top 15, however his inconsistency and unexperience soon found him in last, and after pitting onto slicks 20 laps in, the sudden change in weather caught him out and forced him into a retirement.
Mayor's luck started to change, and the 2015 British Grand Prix in the Open Series saw Mayor Qualify 7th. After a stunning start, Mayor was fighting for the top 4, but entering the Maggots-Becketts complex, an out-of-control Cziranku skidded onto the track and collected Mayor, forcing him, along with other cars, out of the race in spectacular fasion.
2018
On December 5th 2017, ST Racing announced that Mayor shall be driving in the 2018 Supercup championship full time, alongside team owner, Mark Fuller.