Main Page
From GPVWC Wiki
Welcome to GPVWC Wiki,

your guide to the GPVWC simracing leagues.

1,209

articles in English

Recent seasons:
About GPVWC Wiki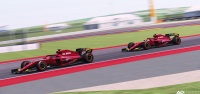 This wiki hosts information relating to the Grand Prix Virtual World Championship (GPVWC), a major simracing organization which runs a wide selection of virtual motorsport competitions. Founded in 2000, the league has constantly evolved since it's inception, at first offering cutting edge offline racing experience, which was then followed by a new era of online racing using the rFactor platform. The league offers competitors our unique team management and car development system, as well as great racing with a friendly and welcoming community.
For more information please check out the GPVWC website and our Beginners Guide.
Upcoming Events
Below is a list of GPVWC events scheduled for the coming weeks:
GPVWC Wiki News
Some of the latest developments on our wiki:
Wiki pages have been created and are in the continual process of being updated for all currently ongoing 2014 season series.
Work has begun on creating individual Race Report pages for the 2014 World Sport Series season
Selected Wiki Pages
Main Site Links