Chris Williamson
From GPVWC Wiki
Chris Williamson
Nationality
British
Year Joined
2010
First Race
2010 Australian Supercup Grand Prix
Series Entered
Superleague, Supercup, FC
Current Team(s)
Nijo Racing, RTS, Woods Racing
Championships
{{{Championships}}}
Wins
{{{Wins}}}
Podiums
{{{Podiums}}}
Poles
{{{Poles}}}
Fastest Laps
{{{Fastest Laps}}}
Chris Williamson is an English sim-racer form Nantwich, England and is the founder of the Nijo Racing team. He joined GPVWC in 2010 and has since competed in the Superleague, Supercup and Formula Challenge competitions at various points in time. Chris was runner-up in the 2010 Supercup, narrowly losing out to Christoph Lichtenstein in the final round.
Before GPVWC
Having previous played racing games such as 'F1 World Grand Prix', 'TOCA 2' and 'Gran Tourismo', Chris entered the world of online racing during his time living in Japan. He started out in an amateur leagues such as 'GPROC' and 'ALT Challenge', which were organized at www.gpro.net and used the game 'F1 Challenge 99-02'. When these leagues switched to rFactor, Chris continued with them and also so-created a successful touring car league, 'TCC'.
Some members of these leagues, including Ben Warren, Tom Parker and Scott Bennett took part in the GPVWC Meganes series in 2009 and they subsequently introduced Chris to the GPVWC in early 2010.
2010
Supercup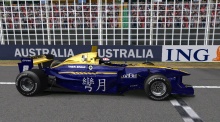 Having been introduced to the league, he quickly secured a place at the newly formed PB Racing team where Chris remained during the entire 2010 Supercup season. Over the season he would be partnered by several different drivers including Scott Bennett, Tim-Oliver Wagner and David Jundt. Chris also took on the role as the team's livery designer and produced a car in the team's customary blue and gold colour scheme.
Williamson launched his GPVWC at the Australian Grand Prix where he scored a creditable third place. This was followed by his first and only GPVWC win at the Chinese Grand Prix, where he managed to keep a cool head when many of his rivals made crucial errors. A second win nearly followed in the Japanese Grand Prix as race leader Tommi Koivonen damaged his car in the closing laps, but held onto victory by the narrowest of margins ahead of Williamson. As the season went on Chris's consistent style earned him points in almost every race and meant that he remained a championship challenger right up to the final race in Singapore. Going into that race Williamson was just four points behind his season-long rival Christoph Lichtenstein. However, it wasn't to be as he got a bad start and suffered a disconnection part way into the race meaning he had to settle for 2nd place overall.
Superleague
As a result of his connections with Tom Parker, Chris soon managed to secure a test seat at ST Racing in 2010. He had his first Superleague experience at the 2010 Chinese Grand Prix as he stood in for Mark Fuller and managed to bring the car home in 14th position. By the time the championship approached the halfway point, Williamson had become a regular second driver within the team and scored his first Superleague points at the 2010 Portuguese Grand Prix at Estoril. The 2nd half of the season proved more fruitful as he was able to score points on several occasions and eventually finished 14th in the overall standings.
Masters
Williamson also took part in the 2010 Masters series, which he entered with his newly founded team Nijo Racing. It proved to be a rather lacklustre season for Williamson who never fully got to grips with the BMW cars and was largely overshadowed by his team mate David Jundt.
2011
Superleague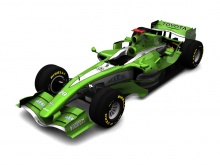 Having opted for an aggressive expansion of his Nijo Racing team, Williamson managed to secure an entry for his team in the 2011 Superleague. Chris had signed a promising driver lineup and so elected to be the team's test driver for the season ahead. However driver availability issues meant that Chris had to step up and drive in several races during the season, where unfortunately he failed to recapture his previous form and failed to score any points for his fledgling team.
Supercup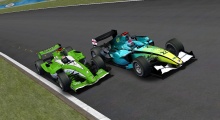 Nijo Racing also joined the Supercup with Williamson taking the lead seat and teamed up once more with David Jundt. A significant increase in the level and quality of his competition has meant that Chris couldn't capure the same high finishes as he enjoyed in 2010, but finished 11th overall with 34 points.
Masters
Williamson raced in the 2011 Masters series alongside Ben Warren and Pavel Loknovski for Nijo Racing, scoring just one points finish in the season.
2012
Superleague
Williamson once again opted for a reserve role at Nijo Racing, with occasional drives when drivers were unavailable.
Supercup
With Nijo's withdraw from the Supercup, Chris joined the Tiger Express Motorsports team, partnering Martin Bulgin. After a disappointing opening half of the season, a decision was made and Williamson switched his focus to Formula Challenge instead.
Formula Challenge
A mid-season switch saw Williamson joining his own Nijo Racing team as lead driver. He enjoyed modest success, taking 33pts in 12 appearances.
Masters
Chris competed for Constant Racing in the 2012 Masters.
Other roles at GPVWC
As well as being a driver and team manager, Chris has several other roles within the GPVWC. He joined the staff in 2011 as part of the graphics and video making team. Chris's role has gradually increased, becoming part of the diciplinary committee and helping to develop the league's mod files. In 2013 he was promoted to Head of Competition at the GPVWC.
Complete GPVWC results
Superleague results
(key) (Races in bold indicate pole position, races in italics indicate fastest lap)
Year
Team
Chassis
Engine
1
2
3
4
5
6
7
8
9
10
11
12
13
14
15
16
17
18
19
20
WDC
Points
2010
ST Racing
-
Honda
AUS

-

CHN

14

JAP

-

UAE

-

HUN

Ret

MON

-

GBR

Ret

POR

10

BAH

12

TUR

Ret

CAN

-

MEX

9

BRA

11

ARG

Ret

ESP

7

ITA

5

BEL

9

NED

Ret

SIN

7

14th
24
2011
Nijo Racing
NR11B
Toyota
AUS

Ret

UAE

16

JAP

-

CHN

-

RSA

-

AUT

12

FRA

-

MON

-

GBR

11

BAH

Ret

SMR

12

TUR

Ret

MEX

14

CAN

11

BRA

Ret

ITA

-

ESP

-

BEL

11

NED

-

SIN

-

NC
0
2012
Nijo Racing
NR-12
Cosworth
AUS

-

CHN

-

UAE

-

HUN

-

ESP

-

MON

Ret

CAN

20

KOR

-

TUR

-

GBR

-

ITA

15

BEL

-

NED

16

GER

Ret

USA

DNS

BRA

-

JPN

-

SIN

-

NC
0
Supercup results
(key) (Races in bold indicate pole position, races in italics indicate fastest lap)
Year
Team
Chassis
Engine
1
2
3
4
5
6
7
8
9
10
11
12
13
14
15
16
17
18
19
20
WDC
Points
2010
PB Racing
-
Toyota
AUS

3

CHN

1

JAP

2

UAE

5

HUN

5

MON

2

GBR

5

POR

2

BAH

6

TUR

4

CAN

2

MEX

3

BRA

5

ARG

4

ESP

4

ITA

6

BEL

Ret

NED

3

SIN

Ret

2nd
141
2011
Nijo Racing
NR-GP2
Renault
AUS

8

UAE

6

JAP

8

CHN

9

RSA

9

AUT

9

FRA

8

MON

8

GBR

8

BAH

15

SMR

Ret

TUR

Ret

MEX

Ret

CAN

9

BRA

10

ITA

13

ESP

6

BEL

DNS

NED

-

SIN

-

11th
34
2012
TEM
SC-012
Mecachrome
AUS

Ret

CHN

13

UAE

21

HUN

Ret

ESP

Ret

MON

16

CAN

19

KOR

17

TUR

-

GBR

18

ITA

-

BEL

-

NED

-

GER

-

USA

-

BRA

17

JPN

14

SIN

-

NC
0
Formula Challenge results
(key) (Races in bold indicate pole position, races in italics indicate fastest lap)
Masters Series results
(key) (Races in bold indicate pole position, races in italics indicate fastest lap)
Year
Team
Car
1
2
3
4
5
6
7
8
9
10
11
12
13
14
WDC
Points
2010
Nijo Racing
BMW-E90
LAG

FEA
10

LAG

SPR
14

BIR

FEA
10

BIR

SPR
8

SNE

FEA
9

SNE

SPR
10

NOR

FEA
6

CAD

FEA
Ret

CAD

SPR
11

A1R

FEA
7

A1R

SPR
14

SIL

FEA
14

SIL

SPR
12

12th
40
2011
Nijo Racing
BMW-E90
NOR

FEA
24

NOR

SPR
34

GOL

FEA
21

GOL

SPR
31

ZOL

FEA
Ret

ZOL

SPR
28

IST

FEA
17

IST

SPR
13

WAT

FEA
26

WAT

SPR
22

BAT

FEA
24

BAT

SPR
18

DON

FEA
28

DON

SPR
25

41st
3